Mission: Organization/Le grand ménage
Scroll down for english

Ça doit être un record personnel. D'habitude ça prend au moins une ou deux journées avant d'avoir un commentaire sur mon blogue, lorsque j'en ai évidemment. Cette fois, sitôt les photos de la jupe à volant affichée que Nadine et Kadi m'ont fait savoir que non, je ne ne devrait pas la porter. Considérant que cette dernière fait le tour de l'Irlande en ce moment et que probablement qu'elle paye son accès à l'internet à la minute, ça doit vouloir dire quelque chose. Je n'aurai donc pas à demander à Annie son avis, sa nièce de 12 ans héritera de ce malheureux vêtement.


En fait la jupe était un détour, le projet que j'avais l'intention de faire initialement était une paire de jeans court en utilisant ce *patron* de Vogue. Il est supposé d'être fait avec du tissu très élastique mais je le ferai avec un denim beaucoup moins stretch, ce qui nécessitera de sérieuses modification du patron. C'est un exercice auquel je voulais me livrer depuis que j'ai essayé des shorts en magasins qui tiraient de façon peu élégante à la fourche et qui m'a donné l'impulsion d'acheter l'édition de décembre 05/janvier 06 du magazine Threads. Il y a un article sur les ajustements à faire justement à la fourche et je me suis dit qu'il était temps de l'essayer. Si tout va bien je me ferai un gabarit avec le modèle sans poche du patron.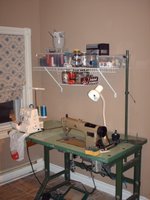 Mais je ne voulais pas entreprendre une nouvelle session de couture sans mettre un peu d'ordre au-dessus de ma table de machine à coudre. Je ne savais que faire jusqu'à ce que j'aille fouiller dans les projets d'une amie de la gourou et j'y ai trouvé des photos de sa salle de couture. Ce sera mon projet pour cet hiver, après avoir refait cette platitude qu'est ma chambre à coucher. Mais pour revenir au sujet, j'ai été faire un tour à la quincaillerie et un peu moins de 40$ plus tard, j'avais en main les éléments pour faire une étagère. J' ai utilisé une étagère de 12 pouces, avec deux supports muraux, les crochets pour suspendre l'arrière de l'étagère et un panier dont je ne savais pas pourquoi je l'avais pris mais que je suis contente de l'avoir fait. Une heure de travail et voilà le résultat. Je ne montrerai pas le reste de la pièce...


This must be a personnel record. It usually takes a day or two before I get a response, if any, to one of my postings but almost as soon as I put the pictures of the skirt that I shall refer to now as the poom-poom skirt, Nadine and Kadi told me to leave it in the closet. Considering that K is now running around in Ireland and probably paying by the minute to go online, the fact that she took the time to do so must mean something... I guess I won't have to ask Annie her opinion then but her 12 year old niece will inherit the reviled piece of clothing.

The poom-poom skirt was actually a sidebar to what I really wanted to make which was a pair of short jeans using this Vogue Pattern. It's supposed to be done in a stretch fabric but I will use a denim that has very litte lycra and that will require some serious mods to the patter. It was an exercice I wanted to do ever since I tried on a few pairs of shorts that seriously bunched up at the crotch, I immediatly ordered in the Dec 05/Jan 06 issue of Threads magazine that had an article on how to fix that. If it goes well I'll make a template with the model that has no pockets.

But before I got to that, I didn't want to start a new sewing project without doing a bit of a clean-up on top of my sewing machine's table. I didn't where to begin until I checked out a few projects of a friend of the guru and she had posted pictures of her sewing room. That will be my next project, right I finish with that yawn of bedroom of mine. But back to the table. A trip to the hardware store and 40$ later, I got all I needed for the shelf: a 12-inch wire rack, 2 wall mounts, the hooks to support the rear of the shelf and a basket that I couldn't think of why I got it but am glad now that I did. An hour's work and voilà. I won't show the rest of the room...